Corporate Events : Team Building, Recognition and Appreciation, Special Events : Lots of Fun!
Looking for a fun and exciting team-building activity for your employees? Would you like to show your appreciation and thank your most important clients for their continuous support? Ready to close that important business deal?
Get ready for something exciting and different: a relaxing day or afternoon learning to shoot trap, an Olympic sport since the 1900s!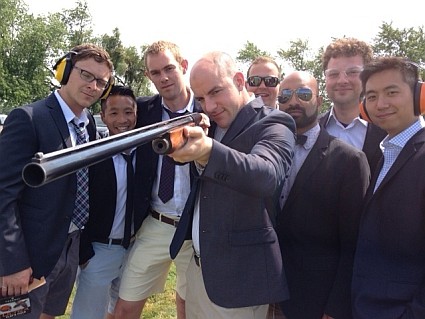 Everyone, regardless of age, gender or physical abilities can trap shoot, from the inexperienced trapshooter to the seasoned outdoorsman. Whether you have a small department or large corporate group, are planning an executive business meeting, corporate charity, or office fundraiser event, if you would like to reward and recognize your staff or maybe are looking at entertaining valued clients, we can plan the perfect corporate outing for you. As each corporate event is unique we will work together to customize and tailor your trapshooting adventure to fit your needs, time frame, and budget.
A typical corporate outing with The Trapshooting Academy includes up to fifty clay targets per person as well as the required ammunition, gun rental, eye and ear protection, and, most importantly, professional instruction by experienced, certified coaches.
Statistics show that shooting is far safer than football, basketball, soccer, volleyball, and even golf. At the Trapshooting Academy, safety is paramount. The entire group will receive a safety briefing before proceeding to the range and all shooting activities take place under immediate, close supervision.
One or more trap fields will be reserved for your team for the duration of the event and all your guests will receive personal, one on one professional instruction. In most cases, part of the group will shoot while the others engage in team-building exercises, engage in activities related to trapshooting that do not involve a firearm or just watch, enjoy the refreshments, socialize, and relax.
A catered meal or just refreshments on the range – add non-alcoholic beverages, and you'll have a unique special event your valued employees or esteemed business partners will remember.
Click play below to watch the Men's Double Trap final – Nicosia 2013 World Cup courtesy of ISSF TV.
Exciting eh?
At The Trapshooting Academy we offer just that: an exciting fun alternative to the usual, more traditional group outings!
Contact us today to plan your next outdoor corporate outing and try the exciting sport of trapshooting!
Email info at trapshootingacademy.ca, call (877) 55 SHOOT or (905) 963 0131 for a quote, a complimentary tour of our facility and a round of trap!*
We are looking forward to hearing from you! 
* Some conditions apply. Contact us for more details.